Borb the Birb is a tiny, cozy, self-help bird I've made as a gift for a friend, back in 2015. Borb is all about giving free life advice and kind words, accompanied by some nice background beats. Pressing the space bar saves a screenshot. Additional keyboard controls do exist, but are kept a ~~secret~~ for players to discover themselves.
Borb is PWYW donationware, and freely playable in-browsers on itch.io. People can opt to download standalone desktop versions. I've decided to make the Linux version free, and keep the Windows and Mac Builds behind minimum donation amounts.
To date, 19 people have donated $256.50 in total.
Exhibitions #
Borb also works well as an interactive art installtion. A bunch of people liked Borb so much they've decided to make it part of their games festivals.
Tiny Palace #
In May 2016 Borb got selected, among others, to be part of Tiny Palace, a small independent and crowdfunded exhibition in Kassel, Germany. Their site is defunct but you can still find them in the Internet Archive. I couldn't attend but I've managed to rescue some pictures.
Bit Bash Chicago #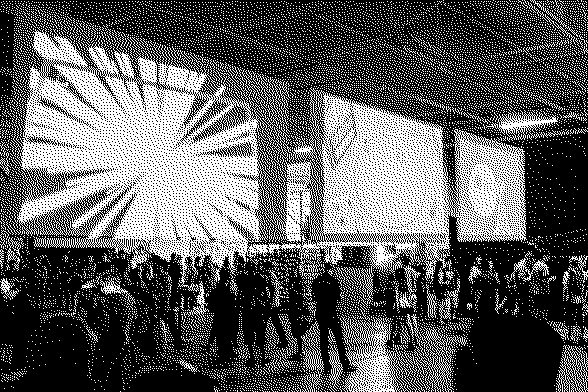 In August 2019 Borb joined the Alternate Games Festival Bit Bash, an international collection of lesser known but culturally signficant video games. at The Museum of Science and Industry in Chicago, Illinois.
Check out their whole 2019 selection of Interactive Experiences.
Kind Words About Borb #
Borb has received lots of positive feedback via email, social media, and user reviews on itch.io. In the spirit of sharing the love, I've collected some of my favourites below:
As simple as the game may be, its writing reveals the kindred spirit of somebody for whom these demons are all too familiar. Borb will not tell you to smile, lecture you about bigger issues, ask you to look at things in a different way, or push any other easy solution on you. Borb is simply there for you, with an endless well of positivity and gentle reminders to take care of yourself.
Borb the Birb is a helpful friend who gives you good advice and tries to cheer you up. I will fight anyone who says this isn't a game.
This game has given me joy several times over the years
I too am glad met borb
borb is a permanent fixture on my bookmarks bar, I visit him often
This is a great example of "less is more"
in these dark times where would i be without borb the birb
If you have an account at itch.io and want to add your thoughts about borb, please leave a review. It helps me out and I do read all of them. If you don't have an account but still want to share, feel free to contact me. Thank you.